Engineering Consulting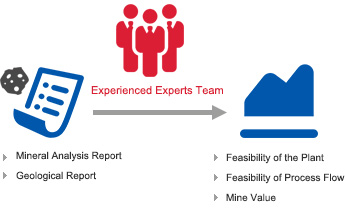 I Purpose of Engineering Consulting
Engineering consulting makes clients have a comprehensive understanding of the value of mine, the useful elements, available mineral processing technology, plant size, required equipment and period.
II Contents of Engineering Consulting
Xinhai Technology Support Department is responsible for engineering consulting. When a client needs engineering consulting, firstly, Xinhai Research Institute will arrange an expert with rich dressing experienced to make sure the ore preparability according to the analysis of mineral elements (Xinhai also makes this analysis). The basis of experts relying on in the mineral elements analysis mainly includes: elements content (number, type), elements distribution, recovery rate of useful elements etc.
After making sure the ore preparability, Technology Support Department would contact with mineral dressing construction departments including geology, mining, ore dressing, smelting, machinery, civil engineering, electric power to get a brief quotation.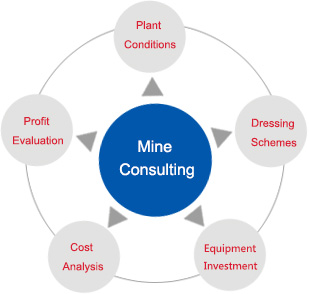 Xinhai mine consulting provides services according to the need of clients. The information clients providing is more detailed, the information of mines consulting is more detailed and accurate. The main contents of mines consulting include mining, mineral processing, external conditions, investment estimation and analysis of economic benefit.
The engineering consulting illustrates all the problems in the construction of dressing plant according to the limited information provided by the clients, so the experience of expert is a key. Only an expert with rich experience could provide detailed engineering consulting for the clients, which allows clients to have general understanding to their own mines and the value of dressing plant.
III Results of Engineering Consulting
At last, engineering consult takes on economic benefits analysis for the customers including the cost analysis and profit estimate. Economic benefit analysis is a comprehensive quotation by Xinhai Technology Support Department connecting various departments (Civil Engineering Department, Processing Department, Mining Department, Electric Power Department, etc.). Mine costs include mining, transportation, mining beneficiation, financial management cost. Profit estimate includes ore grade, product, price, annual output, total income, total cost, profit before tax, comprehensive estimation (time of recovering the investment).
Economic benefit analysis will allow clients to have a rough understanding about the investment and earnings of mine, and guide future investment.
***** ***** ***** ***** ***** ***** Experts Team ***** ***** ***** ***** ***** *****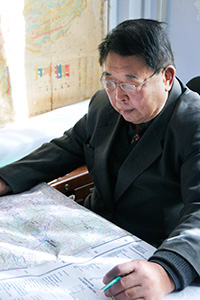 An Jiatong
He enjoys the State Council Government allowance as professor level senior engineer who graduated from Department of Geology of Shandong University in 1960s. He engaged in geological prospection work for 50 years, won the National Science Conference prize, prospecting second prize, third prize of Geology and Mining Department, the third prize of National Science and Technology Progress and awarded the title of labor model of Shandong prospection bureau.
He once published papers in the Precambrian metallogeny symposium, the three national mineral deposit sessions, the national isotope geological conference and other national professional conferences, and published 8 papers on published books.
He is one of the project building persons of "Jiaojia type" gold ore and one of the finders of altered conglomerate type gold deposit in the northeastern margin of the Jiaolai Basin Pengjiakuang and fayunkuang detachment zone, Deng Gezhuang large gold, large and medium-sized deposits of Muping, Laiyang graphite, bentonite, zeolite.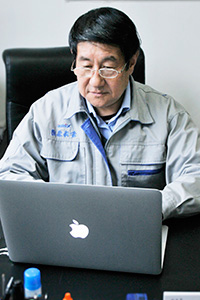 Yu Yongjiang
He is mineral processing senior engineer and technical director of Xinhai Company who graduated from Mineral Processing Engineering Department of Beijing University of Science and Technology (formerly the Institute of iron and steel) in 1976. He has engaged in metal processing, metal smelting for 36 years.
Cangshang gold thickener application project presided over by Yu won the Science and Technology Progress First Prize of National Gold Bureau; Hedong gold project won the second prize of national excellent design of National Gold Bureau; Lingnan gold project won the National Gold Council Excellence Award; Fushan gold flotation machine application won application achievement award; in Liaoning smelting plant, wastewater containing cyanide segmented treatment was first applied; breaking through the high arsenic gold ore refractory roasting with low gold recovery.
In recent years, He is committed to the improvement of tailings dry stacking process and the equipment research and development, which has entered into the stage of popularization and application.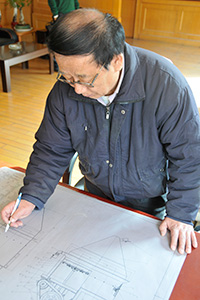 Hu Decheng
Senior engineer (machinery) who graduated from metallurgy machinery department of Anshan Institute of iron and steel in 1964 majoring in mechanical design and manufacture, and engaged in metallurgical and mining machinery product development and design for nearly 50 years.
The rail full length quenching R & D presided over by Hu(project) went through the ministerial level identification of Metallurgy Ministry and won the third prize of scientific and technological achievements of Metallurgy Ministry in 1982; φ 108 three rolls piercing mill and three roll cross rolling pipe mill (project) won the third prize of scientific and technological achievements of Metallurgy Ministry in 1981; TISCO 1200 m3 blast furnace bag type dust test in 1986 went through the identification of Metallurgy Ministry and won the science and technology progress award. Now Hu engages in the design and development of large scale autogeneous mill, and there are a number of technical achievements and patents.
He wrote many academic papers, and The "Experiences in the technical reform of ball mill" was published in the "Mining machinery" 2002 fourth; "The mill main bearing structure analysis and prospect" was published in the "Mining machinery" 2002 tenth; "Superfine laminated autogenous mill / semi autogenous mill" was published in the "Metal mine" 2011 September supplement.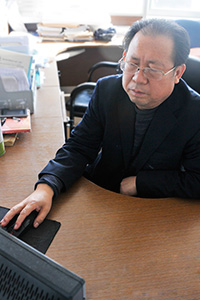 Wu Jianxiang
Mining senior engineer who graduated from Middle and Southern University majoring in mining engineering, and he is working in Xinhai Mining Group as Xinhai mining design institute chief engineer.
He has engaged in mining engineering research and design work for 30 years, and achieved fruitful results: In 1990, a new technology --- simultaneous drifting he came up with was applied in Zhongtiaoshan Bizigou mine construction projects. After the expert assessment, the new technology saved construction fund 5000000 yuan (in 1991 prices), and Workers of Shanxi had reported this;Since 2006, the mining design of mine project and infrastructure investment technical and economic demonstration he has joined: change the extension mining scheme design of Yunnan Shangri-La Hongshan copper 5000t/d; mining and dressing engineering design of Anhui Xiaoxian Flagpole building iron 900000 t/a.
He participated in the Yantai Xinhai mining group mining project investigation and evaluation who preside over the preparation of Investigation and evaluation report. Footprints could be found all over the country and some foreign countries such as Russia, Vietnam, Laos, Kampuchea, Philippines, Korea, Algeria etc.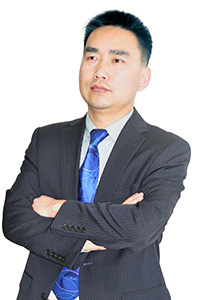 Ding Hui
He is mineral processing senior engineer who graduated from Northeastern University majoring in mineral processing engineering. He is working in Yantai Xinhai Mining Group as Dean of Xinhai Mining Design Institute.
Since 1998, he has engaged in mine mineral processing design, improvement & development of mineral processing equipment and mine engineering project design. He designed independently over 30 projects in domestic and overseas, and the mine engineering projects he participated is more than 100. In addition, the mineral processing equipment improved and developed is more than 20.
Since 2003, he as many domestic and foreign mine project manager chaired or participated in the demonstration program, technology research, project evaluation, project design, project management, engineering work, etc. He is familiar with the operation mode of international mine engineering, and succeeded in organizing more than 100 international engineering project such as Iran, Indonesia, Guyana and so on. His footprints were found all over the inside and outside of China, and participated in the investigation and evaluation of foreign project such as Russia, Mongolia, North Korea, South Algeria etc.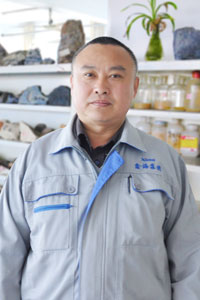 Wu Guofu
Mineral processing senior engineer, Dean of Xinhai Mining Research Institute, he engaged in mineral processing research for more than 20 years, and specialized in non-ferrous metal vulcanization processing research. Ding with professional experience participated in more than 100 projects including experimental research, design, installation, debugging of non-ferrous metals, black, gold, and other non-metallic mineral.
Since 1983, he had worked in a state-owned factory Qingdao for three years as a lab technician, dressing plant technician, deputy director and field director; in 1997, as a director of mineral processing plant in Qixia for 2 years; in 2000-2003, as a director of mineral processing plant in Xinjiang; in 2004 he was responsible for installation and dressing experiment in Xinhai Group; in 20006, he held Dean of the Xinhai Mineral Processing Research Institute.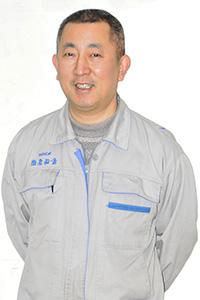 Yuan Yongwei
Senior engineer, graduated from Lanzhou University majoring in polymer materials, graduate students.
He researches on processing and application of polymer materials for 20 years, and obtains many achievements in blending modification of plastics, engineering plastics alloys tire rubber, tire rubber formulation design, rubber process, etc.. He has participated in numerous national and Sinopec technology research projects and won the third prize of Technology Progress.
In recent years, his team is committed to rubber formulation design and processing technology research work of nanometer wear-resistant rubber, oil resistant rubber, heat-resistant rubber, acid and alkali resistant rubber, impact resistant rubber, etc.. Some breakthroughs were achieved that a number of technical indicators reached leading position in the world.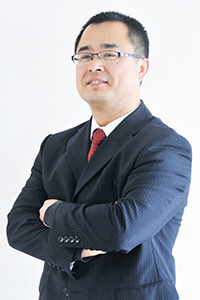 Liu Yiliang
He majored in machinery design and manufacture in university and graduated in 1998. The he has been always engaged in mining machinery and design & production management of rubber mold.
At the end of 2003, the mold design of wear-resistant rubber was finished laying foundations of rubber production; in 2008, he presided over and determined the process plan of molded wear-resistant rubber plate. He participated in more than 50 domestic tailings dry stacking design projects and 10 engineering process projects of tailings dry stacking which made him accumulate rich experience of tailings dry stacking
***** ***** ***** ***** Some Cases of Xinhai Engineering Consulting ***** ***** ***** *****